Zydot Ultra Clean Hair Purifying Shampoo
Designed for extremely swift yet elegant removal of all toxin residues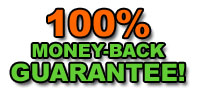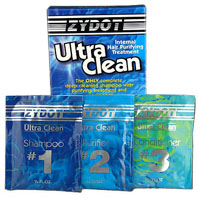 Pass Any Hair Drug Test
Within 10 minutes, you will be in the "Clean Zone" for up to 8 hours. It is safe for the scalp and all hair types. It does not effect color or specific gravity. Works as a "body wash" for body hair in addition to scalp. Drug testing via hair follicle sample has grown into a very popular method to detect drug use without invading ones so-called privacy compared to a urinalysis or a blood test.
Internal Hair Purifying Treatment Removes Medications, Chemical Buildup and Other Impurities From Within the Hair Shaft
Shampoo: Removes External Barriers to Expose the Inner Hair
Purifier: Penetrates Deep Within the Hairshaft to Dissolve and Remove Impurities
Conditioner: Controls Tangles, Adds Sheen and Improves Manageability
---
---
Zydot Ultra Clean Hair Purifying Shampoo
The ONLY complete deep cleaning shampoo with purifying treatments and conditioner. SHAMPOO away external barriers such as hair spray, styling and finishing products, and everyday buildup to expose the inner hair. PURIFY by penetrating the hairshaft's inner structure to release, dissolve, and remove the chemicals and medications bonded within the hair. Leave your hair pure and clean, free of all unwanted contaminants and impurities. CONDITION hair to control tangles, add sheen, and improve manageability. ZYDOT Ultra Clean Shampoo and Purifier contains Aloe Vera to help condition both the hair and scalp while the penetrating cleansing agents remove impurities. The Aloe based conditioner will leave your hair tangle free and full of body. To be used ONLY on the day you wish your hair to be clean and free of unwanted impurities.
Hair Drug Testing
Hair drug testing is the most difficult to pass. The labs will wash the hair sample before performing the test and as a result, remove any "masking" product that you may have used. Make sure that you use a shampoo that actually neutralizes the drug metabolites making them undetectable by the labs. These products usually remain effective from 4 to 8 hours so plan to wash your hair shortly before submitting to the drug test.
Since the labs require 50-70 strands of hair of at least 1½ inches in length, many people will get a "buzz cut" in an attempt to avoid a hair drug test. However, they will take strands from another part of your body, such as your arm, leg, chest, underarm, or pubic area (usually in that order). Be aware that if you normally have some hair on your head and then shave it off shortly before the test, it will appear suspicious to your employer or parole agent. Regardless of the situation, if you are unable to give a useable sample for a hair test, be prepared to give a sample of your urine, blood, or a saliva swab to be used for drug testing.
---
OUR PRODUCTS WORK!!
CALL TOLL FREE
Our expert and friendly staff is available 8:00 am - Midnight (ET) to help you pass your drug test and process your order for overnight delivery.