Supreme Klean Saliva Detox Mouth Wash
Saliva Detox Mouthwash - Pass Any Saliva Drug Test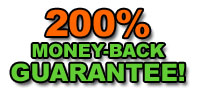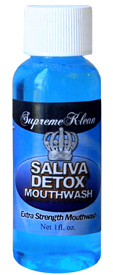 Beat A Oral Swab Test, Pass Any Oral Saliva Test
Saliva Test Effectively cleanses toxins from your mouth. Easy to use. Just swish and spit out. If you are subject to oral Saliva drug testing with a swab, make sure you are prepared. This mouthwash is highly effective. Place in mouth and swish for 2-3 minutes. Your mouth will now be coated with solution and saliva will be clean of toxins for approximately 30-40 minutes. Works every time! 200% Manufacture Guaranteed. More than one may be used if 30 min clean time is not long enough.
Ingredients: Water, Glycerin, Magnesium Sulfate, Potassium Chloride, Sodium Chloride, Witch Hazel, Aloe Vera, Boron Citrate, Lithium Sulfate, Peppermint, Sodium Benzoate, Potassium Sorbate.
Saliva Detox Mouthwash is the newest and strongest formula of mouthwash on the market - with a 200% Money-Back Guarantee!
---
---
Directions:
Place half of contents of bottle in mouth
Swish 2-3 minutes
Spit out
Repeat
Do not eat or drink after using
Effective for 30 minutes (Plan Accordingly)
High Toxin Levels
Saliva drug testing has become increasingly popular among U.S. employers for a couple reasons. First, its easy to test onsite with no labs involved, and second, its non-intrusive, unlike a blood or hair test, and does not have the "embarrassment issues" that are associated with exposing oneself while submitting to a urine drug test.
The test is performed by swabbing the inside cheek and rubbing the sample on a test card that will show a positive or negative reading. The reason the saliva drug test is not as popular as a urine test is because of the drug metabolite level found in saliva. Recent use can be detected easily, but as time passes, the level drops considerably, making it difficult to detect chronic users who have been clean for a few days. Most companies and institutions performing drug tests find this insufficient, and are interested in finding out about ones overall drug use.
Usually, for most drug-users, abstinence for 72 hours will give a negative reading on a saliva drug test, although using a mouth rinse product will give you extra insurance against failing.
---
CALL TOLL FREE
Our expert and friendly staff is available 8:00 am - Midnight (ET) to help you pass your drug test and process your order for overnight delivery.