How to Pass a Saliva Drug Test
Saliva drug testing is a quick procedure but only provides short-term history of drug use and is commonly used for detecting the presence of drug metabolites in your saliva. Saliva swab drug tests is usually used for surprise drug tests and therefore the best method for dealing with these types of test is through preparation. Our Ultra Cleanse Saliva Mouthwash will instantly prevent any toxins in your saliva from registering on your drug test. It is always a good idea to keep a supply on hand if you know your company issues random drug tests to confidently pass a saliva drug test in just a few minutes.
It is common that these drug tests are combined with a urine drug test, so if you are unsure of your companies drug testing procedures we recommend preparing by picking up one of our proven urine detox products. For more information on urine drug testing we recommend that you read through our resources page on Urine Drug Testing. Always remember that preparation is key - better safe then sorry.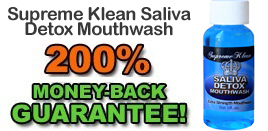 Saliva Detox Mouth Wash To Pass Saliva Drug Test - Flushes all unwanted toxins immediately after rinsing your mouth. Extended effectiveness for up to 30 minutes. This product will save you in a pinch!! 200% 2-Times Money Back Guarantee.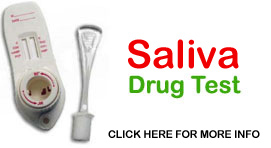 * Easy Saliva Drug Testing
* No need for urine collection
* Avoids gender-specific collection issues
* Test for 6 drugs
* Eliminates collection site costs
* Helps eliminate adulteration
* Results in 10 minutes
* Easy to use
* No dropper or collection vials needed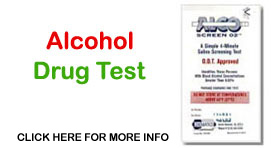 The Alco-Screen alcohol test provides a fast, highly efficient way to determine the presence of alcohol in Saliva and provides semi-quantitative blood alcohol concentration. Quickly determine positive results with no guesswork. This alcohol test is easy to use and requires no training. Simply follow the instructions on the package to quickly test for alcohol use. Want to make sure you or your teen doesn't fall victim to spiked drinks at parties? Alco-Screen can be used to determine the presence of alcohol in fluids such as soft drinks, punch and juices. Quantitative blood/alcohol testing should be preformed by a qualified professional.